Omens of death are supernatural beings with abilities connected to death. They generally function as messengers delivering warnings of impending death, giving confirmations of death occuring at a specific location, or finding dead bodies. Two such creatures are the banshee and the hellhound.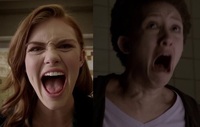 Main article: Banshee
The female banshee is called the Harbinger of Death. A banshee's ability manifests generally as sound, as well as the ability to hear. They connect on a network that broadcasts messages surrounding death to the banshee. Using their Scream, banshees can use them as weapons to disable, to counter-attack enemies.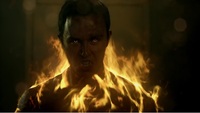 Main article: Hellhound
The hellhound is known as a Bearer of Death. They are able to track down and locate where death has and will occur, as well as find dead bodies. In mythology, hellhounds are said to guard the entrance to the afterlife.
As part of the Wild Hunt, the hellhound hunts down lost souls, ones who have been abused, victims, or those who have done wrong.