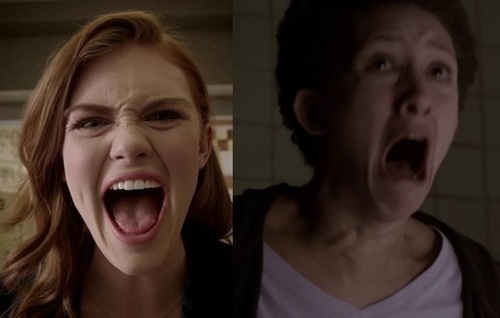 On Teen Wolf, the banshee is a human woman with the ability to access the supernatural and is a harbinger of death. They are known as the Wailing Woman.
A banshee experiences premonitions of one's impending death. Their predictions appear to them as causal factors of near- or affirmative death experienes. A banshee's predictions are not set in stone and do not always come true.
Series
Lydia Martin was born a banshee, though she was initially unaware of her trait. In Season 2, after she was bitten by alpha werewolf Peter Hale, Lydia's powers came out and began to manifest. In Season 3, Lydia was finally identified as a banshee by Jennifer Blake. Lydia, now aware of and having accepted her abilities, uses them in her role in Scott's Pack to solve mysteries, determine when, where and how death occurs, to learn how to prevent an oncoming murder or catastrophe from happening.
Another banshee, Meredith Walker appears in Season 3 and is a patient at Eichen House. Meredith acts both as an ally to Lydia and the pack, teaching Lydia how to hone her powers as well as an anti-villain, being the benefactor in Season 4.
Lorraine Martin, Lydia's paternal grandmother, was also a banshee, whom was instrumental in producing the deadpool. In Season 6, a middle-aged, extremely powerful banshee named Lenore appears who was the sole survivor when the Wild Hunt appeared in her town and erased every resident.
Supernatural rules
Banshees are human in appearance with no power to shapeshift nor any superhuman abilities. As such they have the same physical tamra and mortality as the regular human being.
A person can be born with the banshee trait. Lydia Martin inherited her banshee ability from her paternal grandmother, Lorraine Martin.
Though banshees have supernatural abilities, they are not actually supernatural beings as in the manner of a kitsune or a werewolf, they are not controlled by the supernatural. They are instead able to access and manipulate the preternatural forces to their will. Due to this, a banshee is immune to general supernatural phenomena. Mountain ash has no effect towards them and they can even touch or cast barriers out of the wood themselves. Similarly, they are not affected by an alpha werecreature's bite or a kanima's neurotoxin. In Season 6, it is shown that banshees also cannot be taken by the Wild Hunt, due to Ghost Riders having an instinctive avoidance of them.
A banshee, due to being able to access the supernatural have a multitude of psychic abilities that work in tandem with their premonitions, particularly clairvoyance, telepathy and astral projection. A banshee is able of sharing a psychic or telepathic connection with fellow harbingers of death, like a hellhound.
Abilities
Scream
Sound Divination
Harbinger of Death
Telepathy
Real World Mythology of the Banshee