There are three general mystical eye colors for a werewolf or a coyote: bright gold, steel blue and red. Their rank and power are also reflected by how brightly their eye color shine.
Gold

Every canine shapeshifter, born or bitten, starts with the gold eyes. After being bitten by Peter Hale, Scott McCall's eyes as a werewolf were gold until he rose to alpha status. Other werewolves with gold eyes include Isaac Lahey, Liam Dunbar and Hayden Romero all of whom were also bitten. Cora Hale, a hereditary werewolf, has gold eyes. A werecoyote named Edgar appears who has gold eyes.
Blue

A werecreatures eyes will change from gold to blue after they take an innocent human life. Derek Hale's eyes changed from gold to blue when he gave his girlfriend, Paige a mercy-killing. Peter, Corrine, the twins and Sebastien Valet all have blue eyes due to being killers, Malia Tate from her accidentally killing her adoptive family and Jackson Whittemore sports blue eyes because of his time as a kanima. After Derek Hale descends back to beta rank in Alpha Pact his eyes changed from an alpha's red back to steel blue.
If a werecreature with blue eyes were to be losing their power, their eyes will change back to gold as in Derek's case in 117.
Red

A werecreature with red eyes is an alpha. When one rises to alpha status, their eye color, gold or blue, will change to red. Derek's blue eyes changed to red after killing a living alpha, his uncle Peter. Scott McCall's eyes turned red when he becomes a True Alpha. In Alpha Pact, if a werewolf were to lose their alpha status, they lose the red eyes.
Teal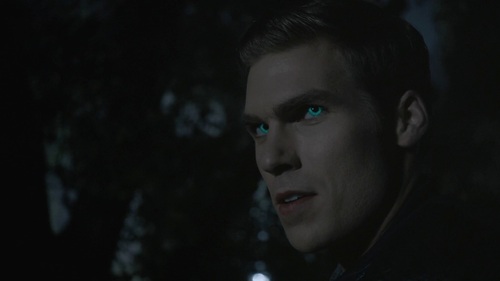 A werecreature with teal-coloured eyes is one whom has taken the power and abilities of a
ghost rider
. When this hitherto unheard-of phenomenon occurs, a werewolf's eyes, either gold, blue or alpha red will turn the colour of teal. In
6x07 - Heartless
,
Garrett Douglas
, an alpha 
lowenmensch
ate the pineal gland of a ghost rider, taking its powers. His red alpha eyes turned the color of teal.